Peer to peer lending news round up - 6th June, 2014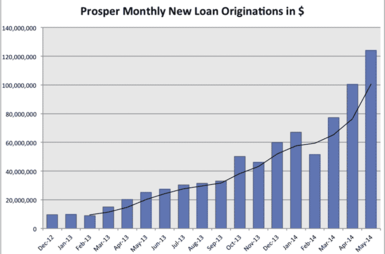 International P2P News
The headliner for international peer to peer news this week is inarguably Prosper's growth in May. Prosper are maintaining their growth spurt, with $124 million in loans funded through May, up from just over $100 million in April, and near on a staggering $100 million more than the $25 million issued in May 2013. Check out Peter Renton's review over at Lend Academy, for a more in depth view of the company's growth.
A guest post on NASDAQ looked this week at the safety of peer-to-peer. The piece acknowledges the risks of P2P, the advantages of industry regulation and the importance of diversification. The article says that P2P can be "as safe as you make it," strongly encouraging that investors utilise fractionalisation and diversify their funds across a range of risk grades. Check out more here to see their recommendations on minimising the risk of your investment.
For those who are interested in learning more about crowdfunding for business, and fancy a trip overseas, have a look at the Crowdfunding Asia conference being held in Singapore this August. Any excuse for jaunt to Singapore, right?
Money Week posted an article looking at the risk of inflation and rising interest rates, and questioning how this may affect peer-to-peer lenders. Our news round up from May 23rd included an interview with Renaud Laplanche, CEO of Lending Club. Confronted with this question of rising interest markets, Laplanche doesn't believe it will affect P2P very much as the model's ability to lower the cost of banking intermediation will be largely unaffected.
Startups.co.uk ran a guest post by Richard Martin of Central Union Partners this week, looking at why he thinks it's appropriate for the government to force banks to raise customer awareness of alternative finance options, and what he thinks of the U.K. regulation. Read his thoughts here.
We've been closely following the movements of Marshall Wace's new P2P investment fund over the last couple of weeks, and this past Friday (U.K. time), the fund commenced trading on the London Stock Exchange. Check out more here, on Crowdfund Insider.
We've mentioned Charles Moldow and his white paper on the future of P2P in previous news round ups. This week he spoke with Peter Renton at Lend Academy for a podcast. The two discuss his massive prediction that the industry will reach $1 trillion in loans funded in 10 years. It's worth listening to, and you can find it here.
Wrapping up international news, Peter Renton also posted a great article this week as a guest post on Business Insider, with seven reasons why investing in P2P is a good idea. As per usual, Peter's pretty spot on. If you read nothing else this week, read this.
In New Zealand financial news
It's been relatively quiet this week but this article in the NZ Herald is worth a read, looking at the idea of neutral interest rates.
Meanwhile, over at interest.co.nz, Gareth Vaughan disagrees with both ANZ and BNZ's CEOs that NZ is "over banked", check out his reasons here.