Q&A with David Smith - IT Services Manager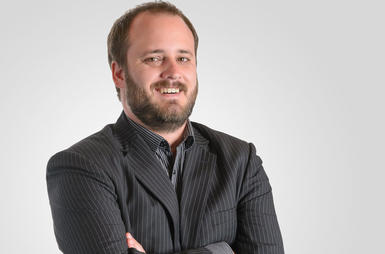 This month we're excited to introduce you all to another critical member of the Harmoney team - Dave, our IT Services Manager. He's the guy who keeps the whole office running and on task, and we all get excited when his monthly Nerd Block subscription comes in, just in case a few suprise items get dropped off on our desks!
1. Can you please tell us a little bit about your experience and your specific role at Harmoney?
I started my IT career at Thermo Fisher Scientific (formerly Biolab) as a Systems Analyst, looking after a big expensive IBM mainframe among other things. After a year or so in an aviation recruitment company, I moved onto Localist, where I spent 2 years as their IT Manager until joining Harmoney at the beginning of 2015.
I'm responsible for the day-to-day continued functioning of our systems, from all our internal hardware to our cloud infrastructure and everything in between. I also look after the BAU (business as usual) development team, who are focused on bug fixes and improvements that take less time than a full project would (normally less than 3 days of development time).
2. What technology system(s) is Harmoney built on and why is this important to investors?
The base transactional system of Harmoney is built on Force.com, which is the cloud based infrastructure that Salesforce.com runs on. The front end of the website runs out of the Sydney AWS data centre, and the back end sits on the Heroku platform as a service. Each of these components have been chosen as they provide maximum uptime, full replication, and ease of deployment. We've also got a separate data warehouse where we do a lot of the post-transactional heavy lifting, which also runs out of AWS on a SQL Server box.
3. What are some of the biggest lessons you've learned about managing an IT team in such a fast paced environment over the past year?
Prioritisation of tasks is really important when supporting the myriad of systems we run on. In the last year we've actioned over 4000 individual tasks, which range from bug fixes, to UI improvements, to major new releases.
We've got a fairly large development team who all have different skill-sets, so pointing the right person at the right task is also really important. We spend a lot of time testing as well, so improving interfaces for our test team means we can test more scenarios, faster.
4. Could you describe a few of the improvements that your team has made to the system (behind the scenes) that you think will have the most positive impact on investors in the long run?
Right now we're spending a lot more time on the investor experience as a whole, from the initial sign-up process to the data we make available via the investor dashboards. You'll notice that we've added a figure called RAR (Realised Annual Return) which was in high demand. As part of this development we made sure to explain exactly how that number was derived, as in the past a lot of other P2P platforms have kept the math behind these numbers obfuscated. Right now we're working on putting more detail into this number, such as showing it over time. We're also looking into the possibility of opt-in, anonymous leaderboards, so you can see how your return compares to other lenders. We're also adding more data to our extracts, so Excel-heads like myself can drill into the details of their investments in a lot more detail.
5. Are there any ways Harmoney has started integrating into the IT/Developer community? If so, how?
We've got a pretty young team, and one of the things our Devs like most is learning from their peers. We attend and present at different user groups, including UI, rails, and Salesforce groups. This month our CTO Andrew Bates will be presenting at the Auckland Salesforce user group, followed up by a more in-depth discussion with the Salesforce developer group.