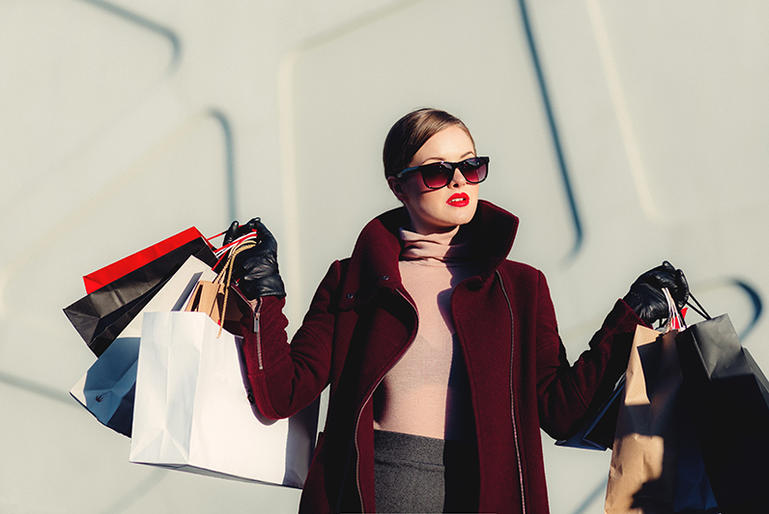 Where to go for a Shopping Holiday
Although we have it pretty good here in New Zealand, there are some things we miss out on due to our remote location and high-to-middling import taxes. And often we're saddled with a higher price tag when we go shopping as well.
If you're a fan of retail therapy, but you're tired of the same old stores or you want to find some proper bargains, it might be time to take a trip overseas to fill your bags.

What are the top shopping destinations and why?

Depending on what you're looking for, there are plenty of destinations to pick from that will give you a bargain or two.

America is one of the most popular places for fashion items, especially Hawaii. Honolulu is home to one of the world's best factory outlet centres, Waikele Premium Outlets, which has more than 50 shops where you can get discounts up to 65% on brand names like Calvin Klein, Coach and Michael Kors. Even in regular shops, in Hawaii and the rest of the country, you'll find goods cheaper than back home.

If you're looking for arts and crafts, you can find high-quality work in many Southeast Asian countries. From Indonesia to Thailand and over to India, the level of detail and attention in the work is incredible, and the unique styles of each country and their artists mean you can find some gems that would be impossible to buy in New Zealand. Some areas have their own specialities, such as Lombok in Indonesia which is famous for its pottery, so it's worth doing your research if you're looking for something specific. You'll also find a wide range of goods at low prices in Southeast Asia's shopping centres, such as the MBK Centre in Bangkok.

Thailand and the United States are also great destinations for cheap electronics, but in general, it's Japan – particularly Tokyo – that's the best place to go if you want to buy a new phone, laptop or games console. However, China, Singapore and many of the Middle Eastern countries also offer good deals on tech items.

What are the tax breaks and rules about declaring goods?

As well as getting cheaper prices on items, one of the benefits of shopping overseas is that you can buy duty-free items that don't have GST included in the total. For most items, you're allowed up to NZ$700 worth of goods before you have to start paying tax on them. This limit is per person and you can't combine it with anyone you're travelling with – for example, a couple can't buy a NZ$1400 laptop and expect it to be tax-free.

Some products have different limits. If you want to bring tobacco products into the country, the GST-free limit is set at 50 cigarettes or 50 grams of tobacco products.

Alcohol also has a different limit. Each passenger is allowed 4.5 litres of beer or wine or three bottles (max 1.125 litres each) of spirits.

If you're bringing back goods that go over this limit, you need to declare them, otherwise, you may have them confiscated and potentially face prosecution.
Can I book an overseas shopping tour?

While it's rare to find a shopping tour from New Zealand to a foreign country, once you land you might be able to book a locally run tour. These operate in a number of different ways – they might provide transport (with lots of storage space) to popular shopping centres, they might be incorporated as part of a larger day tour, or they might focus on walking through smaller local markets.

Websites like TripAdvisor and Wikivoyage can often point you in the right direction, while tour agencies in your destination city might have an online presence if you want to book before you land.

Spotting rip-offs – how do you know it's genuine?

Shopping abroad also has its dangers, as one of the main reasons you might find something cheaper than normal is that it's not a genuine product.

Whether you're looking at electronics, designer clothes or watches, there are often fakes, rip-offs and other shady products that sellers are looking to make a quick buck on. If all you're interested in is the look of a product, you might not worry too much, but if you're concerned with performance, longevity or respecting intellectual property, you might want to avoid these vendors. So how do you spot a fake?

The first rule is to follow the old maxim that if it seems too good to be true, it probably is. You won't be able to buy a genuine Rolex watch for 200 baht or an authentic Louis Vuitton handbag for 10,000 rupiahs. If someone's offering you a product for this price, it's almost certain that it's a cheap knockoff.

Another tip is to look for the accessories that come with it. Designer shoes should come with an appropriate box, not just a plain one. Bags should have a dust jacket and extra straps. Some counterfeiters will go the extra step to make these as well, but often they're an afterthought and you can see that they're not up to the quality you'd expect.

Sometimes the fakes are more obvious to spot – with a brand name misspelt or the fact that an iPhone is being sold cheaply at a market stall and not from an endorsed Apple retailer.

Once you travel and pay for accommodation, is it really cheaper?

After you take into account the cost of accommodation, flights and time off work, it's unlikely that you're going to save a lot of money, but that doesn't take away from the thrill of finding a bargain.

If you're travelling solely for cheap buys, you may need to double check your budget, as it's rare to find such a great deal. However, when you take into account the fact that you're going on holiday and investing in lifelong memories, you'll find that you'll be killing two birds with one stone. The cheap shopping makes the holiday more affordable while going on holiday gives you a reason to hit the shops and more.
Back in 2013, it was actually the case for our friends in Australia that travelling to shop was cheaper than staying at home. Consumer watchdog Choice found that it was cheaper to fly to America and back to buy a piece of software in the US than it was to buy it in Australia.

Holiday budgeting tips

If you're going overseas with the idea that you're going to spend a lot of time and money in the local shops, it pays to make a budget and save money where you can.

Luckily, there are plenty of ways to save money online. While high street travel agents add a commission on top of the flights, hotels, tours and insurance they book for you, you can organise a lot of these yourself.

Sites like Skyscanner can help you find the best prices on flights – whether that means flying with an airline you might not normally consider or by suggesting the cheapest dates to travel. Other sites like Booking.com and Wotif can help you find deals on accommodation, while insurance prices can be compared on sites like 1Cover and Canstar.

Once you've worked out how much the whole trip is going to cost – with an approximation for how much you're going to spend at the shops – you might realise that you need a helping hand to make your dreams a reality. A holiday loan through Harmoney can help you get on the plane, marking the start of a journey full of a lifetime of memories.