About us
Start almost anything with Harmoney.
Our purpose is to help and inspire people to start now on their dreams or start fresh - through financial products that are simple, smart and secure.
Since our beginnings in 2014, Harmoney has sought to transform the way people borrow and lend money. We've created Australasia's largest direct online lending experience, having facilitated over $1.6 billions in loans to over 50,000 customers on both sides of the Tasman, giving people more choice and options. Along the way we've created over 100 jobs, and created a purpose‑driven culture focusing on helping people do better through technology, big data, and responsible lending.
The Harmoney manifesto
We created our manifesto to express and share our views, motives, and intentions. It explains why we care and why our work matters.
How we do things
Our passion for transforming the borrower experience means we've always approached things differently.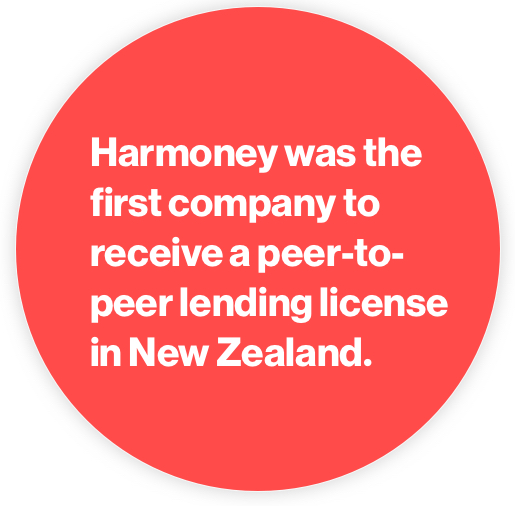 In the early days, that passion led to peer-to-peer lending - Harmoney was the first company to receive a peer-to-peer lending license in New Zealand. It was a great start to our journey of changing borrowing for the better — but just a start. There's much more we want to do.
For people whose only experience in personal finance is dealing with banks and finance companies, Harmoney's differences can be big. For example, at Harmoney we don't let people assess who is credit worthy. Instead, technology, science and mountains of data are used to make better decisions, faster.
This approach is different, but we think it's fairer and more reliable, removing possible misinterpretation and unconscious bias from decision making. It also means we're constantly learning — getting better and better in an ever-changing world.
At Harmoney, we believe using machines to do the things they are good at makes sense. Our people focus on the things that they are good at: researching, designing and building better customer experiences.Our culture reflects our commitment to continuous improvement and growth so we can all be the best humans we can be, creating brighter futures for all of us.
More about us
Leadership
A company has leadership at all levels and in teams of all sizes. Leadership is something we encourage and nurture at Harmoney, led by our Senior Leadership Team.
Careers
People drive Harmoney: their inspiration, imagination, creativity and passion powers what we do. If you want to help Harmoney create brighter futures for people, get in touch.