Harmoney has matched borrowers and investors for loans totalling $164 million.
4,987
for debt consolidation
1,083
for home improvements
884
for travel
632
for used vehicles
253
for household items
249
for business cash flow
… plus 3,058 other loans.
What's in the personal loan Marketplace now?
To have a little extra, and to pay...
Funded: 55%
Build a deck out the back of our...
Funded: 43%
The simplest, easiest and quickest way to get...
Funded: 35%
I wish to study next year as well...
Funded: 33%
My loan will enable me to pay off...
Funded: 31%
With the opportunity of moving home to my...
Funded: 19%
Provide for my family without a mountain of...
Funded: 17%
Upgrade our 1890s Homestead. We host many Wwoofers...
Funded: 17%
Data is updated every 20-30 mins.
How peer-to-peer lending works: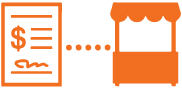 Step 1:
A Borrower applies for a personal loan, then when approved, lists it in the Marketplace.

Step 2:
Multiple Investors fund the personal loan in small amounts until it is fully funded.

Step 3:
The Borrower then repays the Investors over the next 3-5 years via Harmoney.
What is Harmoney?
We are New Zealand's first licensed peer-to-peer lending Marketplace. Peer-to-peer lending has been an established and trusted way to borrow and invest money for over 10 years in the UK and USA. And now, we've brought it to New Zealand. Watch the video to hear first hand from our Borrowers and Investors why they chose Harmoney.
Why borrow through Harmoney?

100% online application.
It's easy to apply online whenever suits you. 90% of loans on our marketplace are funded within 48 hours.

Rates from 9.99%.
You're unique, so is your interest rate. It's customised to your circumstances, not everyone else's.

Up to $35,000, unsecured.
No ball and chain here, just easy repayments you can afford. No hidden or early repayment fees either.
Why invest through Harmoney?

Attractive returns.
Consumer credit generally outperforms typical investments, which is why most of our investors enjoy returns of around 12% p.a..
Diversification.
Spread your investment across hundreds of different creditworthy borrowers with a new asset class to diversify your portfolio.

Easy entry.
Start investing from as little as $25. You get to choose how you spread risk so you can relax and watch your investment grow.
Look who's talking about us...