Leadership team
Meet the leadership team behind Australasia's award-winning digital platform lender. Harmoney prides itself on attracting passionate and energetic leaders.
David Stevens - Chief Executive Officer
David is a highly experienced public company CEO specialising in consumer and commercial finance in Australia and New Zealand. Before commencing with Harmoney as CEO in 2019, David had most recently led a start-up consumer finance company, to ultimately securing a major equity stake in the business by a large Australian Bank in 2018. Prior to this, David served as CEO and CFO of Humm (formerly "FlexiGroup") (ASX: "FXL" now "HUM"). In David's nine years with FlexiGroup, he led a team of over 1,000 employees in the strategic growth of the business, through organic growth and M&A. What was a small company when he started, to becoming CEO of an ASX200-listed business. David also led the $300m+ acquisition of Fisher & Paykel Finance and spent considerable time in New Zealand in the course of his work in the local side of the business.
Simon Ward - Chief Financial Officer
Simon began his career as a banking and commercial lawyer at Russell McVeagh, before switching to accounting, joining Bank of America's London office where he held various senior roles supporting the European rates, currencies, commodities, credit, and equity teams. In 2008 he returned to NZ and helped establish a high-tech manufacturing start up owned by America's Cup team Oracle Team USA, where in 2010 he was promoted to CFO and held that position for four years before joining Harmoney.
Brad Hagstrom – Chief Operating Officer
Brad was part of the team that launched PRF Direct. Developing the entire back office operation, he was ultimately responsible for over 250 staff. Brad joined Flexi-rent with a mandate to create new products, channels, and distribution to grow the company as well as managing operations. He went on to develop a new channel and approach to finance in the SME market, developing a $100m business prior to joining Harmoney.
Duncan Gross – Group Treasurer
Duncan joined Harmoney in 2013. He is responsible for managing Harmoney's institutional funding partnerships in New Zealand and Australia. Prior to Harmoney, Duncan held corporate development roles at Fidelity Investments, LLC, and First Marblehead Corp in Boston, Massachusetts. He began his career at BNZ Finance and has an MBA from Babson College.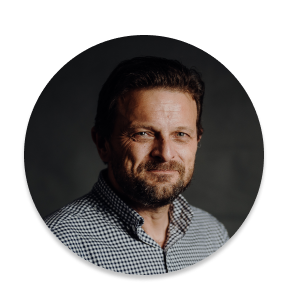 Neil Roberts – Chief Strategy Officer
Neil founded Harmoney, led the business as chief executive officer over six years driving the capital path, and building culture systems and processes that are intrinsic to Harmoney's success. Prior to that Neil was Head of Sales and Business Development at FlexiGroup, leading a team of 80 with annual sales of $200 million driving a $30 million profit. Neil founded the Direct Division of a New Zealand retail company, PRG Group, that sold personal loans to consumers and raised retail debentures to fund loans. Launched in 2001 PRF Direct, achieved $3.2 billion in personal loan applications and $1.2 billion in written personal loan volume over five years. Ultimately heading the business, Neil was responsible for over 400 staff and a balance sheet of $750 million in assets with forecasted pre-tax profit of $50 million six years later and prior to being sold to GE Money in 2006.
Andrew Bates – Chief Technology Officer
Responsible for developing Harmoney's overall technology vision, Andrew ensures our systems and services meet the demanding needs of our customers and partners, driving platform and marketplace initiatives as well as overseeing Harmoney's operational support teams. Andrew has over 15 years experience successfully delivering large-scale solutions in various IT roles including Software Development, Enterprise Architecture and as a CTO.
Dave Nesbitt – Chief Risk Officer
With nearly 20 years' working in the financial services sector, Dave brings a wealth of experience to his new role with Harmoney. He joins the company following 13 years in a series of increasingly senior roles with ASX listed consumer finance company FlexiGroup, where he was most recently head of credit underwriting. Prior to his employment with FlexiGroup, Nesbitt held a series of roles with NRMA Finance.
Amanda Donaldson – Head of People & Culture
Amanda has successfully led and optimised people experience, hiring, training, professional development, and performance management in established and startup companies. A proven team player, with experience in a fast paced environment to support company growth. Amanda is passionate for building effective teams and workplace culture. With over 15 years experience in multiple HR functions from an America's Cup Campaign, Maritime, Civil Engineering to Fintech, Amanda has an impressive background in managing the strategy and processes in building and retaining exceptional talent and continuing to develop a well-defined company culture ensuring teams have the right support to thrive and succeed.
Glen MacKellaig – Chief Marketing Officer
Glen has been directing digital strategies across North America, Europe, and Australasia since 2005. Passionate about all facets of digital marketing, Glen has held senior marketing roles specialising in financial services in New Zealand, including with Westpac, ANZ, and TOWER. He launched a number of e-commerce, mobile, and social innovations for these brands. He is always seeking to create a more intuitive online experience for visitors and find new ways to enhance the user journey across devices.
Mike Travis - General Counsel
Mike has spent 15 years as an in-house legal counsel in New Zealand and overseas, working with technology businesses or within industries undergoing a digital reinvention. He is a commercial lawyer at heart, with an interest in transformation strategy, technology optimisation, and data-driven decision making.
Dan York - Chief Product Officer
He launched the first online savings product in NZ in the early 2000's and had continued to deliver product innovation across financial services, telco, and publishing. He has been with Harmoney since 2014 where his focus is on delivering a product vision and roadmap that provides value for Harmoney and its customers.
Richard Wyke - Chief Digital Officer
Richard leads our engineering teams, working closely with product management to ensure the delivery of a world class experience for our customers. Richard is a seasoned technology leader with over 15 years background in managing and building amazing teams within a high paced complex product environments across SaaS products, enterprise, and fintech.