About us
Press releases
Harmoney breaks into song to celebrate fifth birthday
Harmoney breaks into song to celebrate fifth birthday
27 September 2019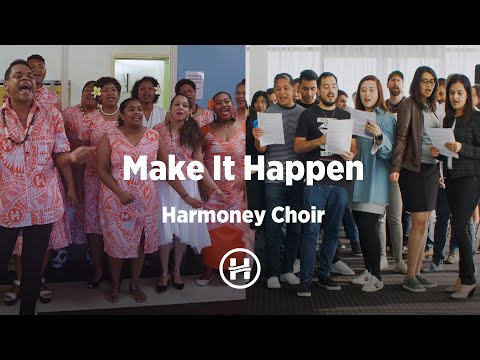 Singing to mark a birthday is pretty standard practice. But to mark its fifth birthday Harmoney took the tradition a step further by learning to sing together as a choir.
Harmoney's Auckland team of almost 70 gathered to sing Making It Happen, a song written specifically for the company. The company's Fiji team also recorded a version of the song from their Suva office, which was incorporated into the final product.
Harmoney founder Neil Roberts says the idea for celebrating five years in song came from wanting to do something that reflected the company ethos of bringing people together.
"We wanted a way to celebrate our birthday that was a little bit different; that not only celebrated where we've come from, but our goal of helping our customers 'make things happen' in their own lives.
"It was a way to have some fun as a team, enjoy the fact that we're going strong after five years and say thanks to our customers who have got us here.
"We have a musical name which comes from the concept of borrowers and lenders working in harmony on the lending platform. Celebrating our birthday musically, just seemed to make sense."
The first Harmoney loans were funded in New Zealand in September 2014. Since then the company has gone on to help almost 40,000 borrowers with $1.4b across 59,000 loans. More than $165 million in interest has been paid to borrowers.
The company launched into Australia in 2016 and in the last financial year surpassed $100m in lending there. In August 2019 Harmoney was named the Best Personal Loan (Risk-Based) at the 2019 Finder Awards in Australia.
For queries please contact:
Investors
David Stevens
CEO & Managing Director
investors@harmoney.co.nz
Media
Stephanie Ottens
Investor Relations
stephanie.ottens@marketeye.com.au
+61 434 405 400
About Harmoney
Harmoney is an online direct personal lender that operates across Australia and New Zealand providing customers with unsecured personal loans that are easy to access, competitively priced (using risk-adjusted interest rates) and accessed 100% online.
Harmoney's purpose is to help people achieve their goals through financial products that are fair, friendly, and simple to use.
Harmoney's proprietary digital lending platform, Stellare™, facilitates its personalised loan product with applications processed and loans typically funded within 24 hours of acceptance by the customer. Stellare™ applies a customer's individual circumstance to its data-driven, machine learning credit scorecard to deliver automated credit decisioning and accurate risk-based pricing.
Business fundamentals
Harmoney provides risk based priced unsecured personal loans of up to $70,000 for three or five year periods to customers across Australia and NZ
Its direct-to-consumer and automated loan approval system is underpinned by Harmoney's scalable Stellare™ proprietary technology platform
A large percentage of Harmoney's originations come from 3R™ (repeat) customers
Harmoney is comprised of a team of ~80 full-time employees across Australia and New Zealand, over half of whom comprise engineering, data science and product professionals
Harmoney is funded by a number of sources including two "Big-4" bank warehouse programs across Australia and New Zealand and a facility from M&G Investments