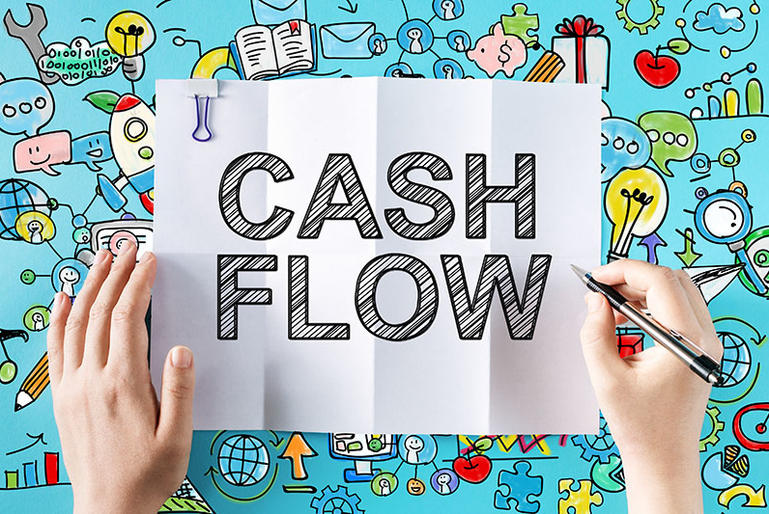 Need to get a fix on your business cash flow? Get a fix on this!
Own a small business? Fantastic – there's nothing better than being your own boss. However, you'll also know that with the perks of ownership come potential pitfalls – and a less than consistent cash flow is one which can have a real impact on the long-term success of your business. So, to help you keep your cash coming rather than going, check out our cash flow tips below:
Positive cash flow
Let's start by accentuating the positive – cash flow, that is. This occurs when you have more cash flowing into your business during a certain period of time, than flowing out of it during the same period. A positive cash flow does not necessarily equate to profit. But it's still good news; it does enable you to grow your business while providing a valuable buffer against any future financial setbacks.
Ok, sounds great. But how do you achieve it?
The obvious answer, of course, is to just keep the money coming in. However, the simple process of collecting cash rightfully owed to you can easily unravel if you haven't established a successful system from the outset. Here are a few pointers:
Schedule a regular time in your diary each week to send invoices out to clients. It will help you to stay on top of your invoicing and your regular clients will appreciate knowing when to expect a bill. The bonus? They're more likely to pay on time.
Establish payment terms for your customers from the outset – and keep these terms as simple as possible.
Offer incentives for early payments – and consider introducing penalties for late ones. There will always be clients who require a little tough love.
Embrace technology. There are numerous applications available which will make managing your cash flow straightforward, not stressful. Xero, MYOB and QuickBooks are great places to start.
Negative cash flow
This isn't as bad as it sounds. Although it means that your business is spending more money than it's receiving, this is common in the first year or two of operation. However, it's clearly not sustainable in the long-term. So, what should you watch out for?
An increasing pile of invoices owing to you: follow up any missed payments sooner rather than later.
Missed discounts: if you're not paying your own bills on time, you may be missing out on incentives offered by other vendors in return for early payments – and that's a missed opportunity to put money back into your own business. No one likes missed opportunities.
Overtrading: if business is booming, great – but make sure your sales don't grow faster than your ability to deliver what you've promised. You'll risk ending up with an increasing pile of bills you can't pay along with an increasing pile of invoices owing to you.
Excessive short-term debt: a business loan is a great option to tide you over a rough patch, but don't get in over your head. Ensure you have both enough revenue to cover any debt repayments as well as a plan to increase your revenue in the future.
Countering cash flow complications
If any of the points above sound familiar, don't panic. There are plenty of ways to get things back on track:
Invoices piling up? Set aside a bit of time to work through them. Are any clients repeat offenders? If so, you need to be proactive in how you manage them in future – or consider whether it's worth doing business with them at all.
Offering cash discounts is a quick way to increase the amount of cash you have flowing into your business. Offering clients a discount for immediate payment may mean that you lose a little on the transaction, but you'll receive the cash faster.
Reduce your inventory. Don't keep too much stock on hand – it ties up cash that could be boosting your business instead.
Keep track of your expenses – all those coffees add up fast. Once again, using a simple accounting package tailored to small businesses will help with this.
Consider taking out a business loan or restructuring or consolidating your debts. Even the best business plan can be temporarily derailed by an unexpected crisis or larger-than-anticipated bill. In this case, a quick injection of cash may be just the adrenaline shot your business needs. One simple loan delivered under sensible terms from a reputable provider is much better than becoming bogged down in several poorly-managed debts.
Make sense? Controlling your cash flow doesn't need to be complicated – but it will pay off (pun intended). Set the right systems in place from the outset; be proactive about managing the process; and don't be afraid to explore the option of a business loan if you need a little help to maintain momentum. And then? Just keep building that business – and don't look back.
If you are considering a business loan then Harmoney may be able to help you out.  Whether it's buying new or used assets such as machinery or vehicles, helping pay the dreaded tax man or just getting some extra cash into the business, a business loan is a simple way to help you out.  Check it out today on www.harmoney.co.nz