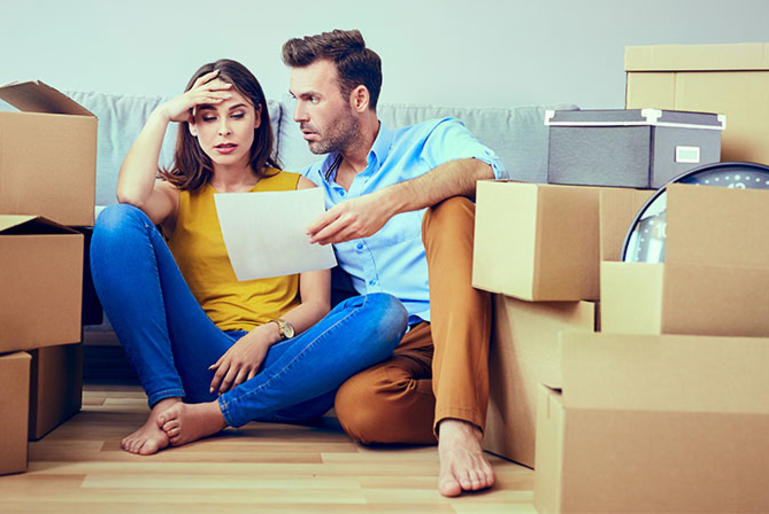 Making the right move: handling the hidden costs of a new home
Purchased a new home? Congratulations! Whether it's your first home or your fifth, nothing quite beats the excitement of taking possession of a new property and making it your own. Won't it look fantastic when you find a sofa to suit that gorgeous living area? And you'll be cooking up a storm once you buy a fridge to fit your kitchen space. Hold on – did anyone see the dog? Remember, the garden's not fenced off yet…
In the chaos of moving out of your old home, it's easy to lose sight of what's required before you move into your new one. And nothing takes the edge off enthusiasm like a pile of unexpected expenses – especially if you've already stretched finances to the limit (or beyond) to seal the deal. So we've compiled a list of potential costs and complications to help you assess what may be required before your relocation – so you can budget accordingly. After all, this is a time for new beginnings, not nasty surprises.
Appliances
There's nothing worse than manhandling your washing machine into place only to discover that it doesn't measure up – literally. Laundries and kitchens, in particular, have often been constructed to accommodate appliances with specific dimensions. Take accurate measurements of the spaces in these areas well before you move. That will give you plenty of time to source the best deals on new or second-hand appliances – as well as sell or store your old ones.
Furniture
It's easy to get sidetracked by aesthetics (embrace that 70s wallpaper as retro chic and move on). Focus on the purely practical issues first. Will your existing furniture actually fit into the new spaces? Some minor modifications may be necessary – in which case you need to decide where you are going to store your furniture until rooms are ready. Your friends' or family's goodwill in helping you move may not extend to parking your sofa or dining table in their garage for months on end. Check out furniture storage companies well in advance. Then you'll be confident that you've found the best one to suit your circumstances and budget.
Renovations and property maintenance
If you've completed a pre-purchase home building inspection – and we strongly recommend that you do – you'll be confident that you're not moving your family into a former meth lab. However, a building report may still have highlighted minor maintenance issues – for example, broken roof tiles or a rotting tree – which, although not deal-breakers, will need to be addressed. Work out what's urgent and what can wait until your budget allows.
Safety and security
Look beyond lock and key. Is a burglar alarm or outdoor lighting necessary, either for peace of mind or insurance purposes? Remember that security is not just about preventing prowlers from gaining access – your children or pets may be interested in a little exploring of their own. Is the property securely fenced to prevent would-be adventurers from making a break for it?
Child-proofing
You're going to love exploring all the new storage spaces in your home. So will your kids. Do laundry and kitchen cupboards have safety locks installed? Do windows have safety catches to prevent a diminutive daredevil from tumbling out? Glass doors or ranch sliders can also be a real hazard, particularly in older homes. Replacing wafer-thin glass with toughened safety glass may be an extra expense, but at least you won't lose sleep over potential life-threatening lacerations.
Insurance
Yes, it's tedious and potentially expensive. It's also essential. If you don't already have home and contents insurance, this is something to sort out sooner rather than later. If you are already insured, the value and location of your new property will have obvious implications for your existing policy. Make sure you've discussed your relocation with your insurance provider. And while we're coming over all Captain Sensible, it's also worth investigating extra insurance to cover the moving process, furniture storage and any renovations you need to undertake.
Transport
Whether you're moving further out of the city or just to a different suburb, take a look at your new transport options. A longer commute may require more money for petrol. On the other hand, your new location may give you better access to public transport, allowing you to save money on petrol and parking. Either way, check out whether your move will require any modifications to your travel allowance.
Utilities
Don't forget to switch your power, gas and water supplies and redirect your mail to your new address. While the transfer processes on their own shouldn't cost you anything, forgetting to do them may hit you in the pocket later on in the form of penalties for missed payments. The old "It got lost in the mail" excuse is up there with "The dog ate my homework".

Before this starts to become more "house-warning" than "house-warming", take heart: many of these issues can be prioritised as finances allow. The key is simply to be aware of how they may affect your budget and to have a plan in place to address them. If you're already at full financial stretch, this plan may even involve a small loan to ensure you've crossed the absolute essentials off your list. But here's a little home truth (sorry): the sooner you get a handle on the housekeeping, the happier your homecoming will be. Check out your options with our Personal Loan Calculator to see how we could help you enjoy your new beginnings.