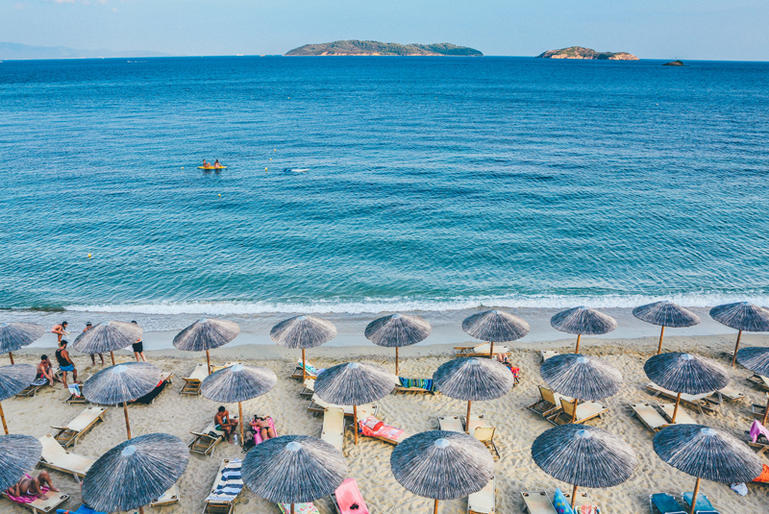 Save or Splurge? 5 Great Holiday Destinations for Any Budget
With the kiwi summer now truly long gone, you may want to think about heading to warmer climes. While our own little part of the world is paradise, there's a lot to be said for getting away - really away - and heading somewhere exotic and fresh. It's not too late to plan for an extended summer; now is the perfect time to get away for Autumn or Winter. Here are a few ideas to get you thinking.
1. Greece: the Bluest Ocean You'll Ever See
As a cradle of civilised society, Greece can lay claim to architecture and artefacts over two thousand years older than New Zealand. The Acropolis and the Parthenon both make for stunning viewing - you can get up close for free, but it's well worth the small cost for a guided tour. Eating well is essential to make it around all the temples, stadia and statues, so check out street food specialities like gyros (roast pork or chicken wrapped in a pita) or moussaka, followed by baklava for dessert. Any of these items shouldn't set you back more than a few euro.

If your budget is fairly forgiving, a visit to Santorini is a must-do experience. Seasoned travellers often say that Santorini is one of the most beautiful places on earth. Although New Zealanders might doubt that claim, there's no denying that Santorini is a special place. On the off chance that the ocean views get old, visitors to Santorini can switch things up with winery tours, sailing cruises and tavernas serving tapas and fresh local seafood.
2. Maldives: an Authentic Local Experience
Planning a trip to the Maldives inspires visions of pristine white sand beaches, coral reef atolls and beautiful bungalows at the water's edge. For years, the Maldives has been a premium destination - beautiful, but with a hefty price tag. A few years ago, the Maldives liberalised accommodation laws, allowing locals to start up small restaurants and guesthouses and paving the way for budget travel in this Indian Ocean island paradise. These guesthouses are frequented by locals as much as tourists, so expect warm hospitality and good, simple fare. These guesthouses are only a short ride away from world class snorkelling and fishing.
At the spendy end, the Soneva Fushi resort is a short bike ride under a leafy canopy to sparsely inhabited beaches. Local guides offer freediving lessons: learn to relax, focus and explore underwater on a single breath. If freediving isn't your thing, the Soneva also offers snorkelling tours of the Baa Atoll guided by its resident marine biologist.
3. Cambodia: A Rich, Dark History
Cambodia is a country in a state of rapid change. Sandwiched between Vietnam and Thailand, this rapidly developing country can boast beautiful coastlines, ancient wonders and flavours you don't often find back home. Although the country has a dark past, it's filled with some of the friendliest, most hardworking people in Asia.
History is a major focus of most Cambodian holidays. Cambodia is still finding its way in the aftermath of the horrors inflicted by the Khmer Rouge. To truly understand Cambodia's trauma, travellers should visit Cheung Ek (often known as the killing fields) and the S-21 interrogation centre at Tuol Sleng in downtown Phnom Penh. A guided tour of both sites doesn't make for easy viewing but provides an insight into grim horrors that few New Zealanders understand the extent of. Going back further in time, it's essential that you make time to visit the 160 hectare, 900 year old Angkor Wat temple. A Buddhist holy place, Angkor Wat is the largest religious monument ever built. Despite being so large and so old, Angkor Wat is covered in detailed carvings and reliefs. After sundown, grab a tuk-tuk and check out Friends Restaurant a local restaurant employing former street youths and serving up amazing tapas, Khmer curry and the best cocktails in the country.
If you're looking to splurge, consider a trip to the Six Senses on Krabey Island. Six Senses comprises 40 pool villas set on a private island. Guests at the resort can indulge in ancient Cambodian healing traditions, yoga and rejuvenation workshops. The resort's juice bar serves up smoothies based on the rich variety of fresh fruits and herbs grown on the island.
4. Argentina: From Wine Country to Tango
From hiking through Patagonia to a leisurely tour through Mendoza wine country, Argentina offers something for all speeds - and all budgets. Like any great destination, Argentina offers an opportunity to connect with yourself and with nature - the Andes are ripe for exploration and self-reflection alike. But Argentina is so much more than its countryside; bustling cities like Buenos Aires offer good food and culture in spades. Argentina is the home of tango and a visit to Buenos Aires or Córdoba wouldn't be complete without having a go.
If the sky's the limit, consider a flying safari over the Iberá Wetlands, allowing you a good vantage point to take in vast lakes and waterfalls. In between flights, the four day tour offers guided excursions and boutique lodges deep in the Argentinian jungle.
5. Niue: A Paradise Like No Other
Niue might be one of the largest raised coral atolls on earth, but it's also one of its smallest countries, with a population of just over a thousand people. Life on the island is the way it used to be - no traffic lights, queues or crowds. With only a handful of tourists visiting each year, you'll have the island's swimming holes and limestone caves to yourself. Keen divers and fishers will enjoy Niue's deepwater fishing. Mahimahi, tuna, bass and marlin of all colours can be caught just minutes off Niue's coast.
If you're looking to reset or reconnect next year, now's the time to start planning your great adventure. Booking ahead can save a lot of stress and money, so consider whether a holiday loan from Harmoney could help you plan ahead and make it happen. And check out the latest holiday packages on offer from World Travellers for some great ways to experience the world differently.