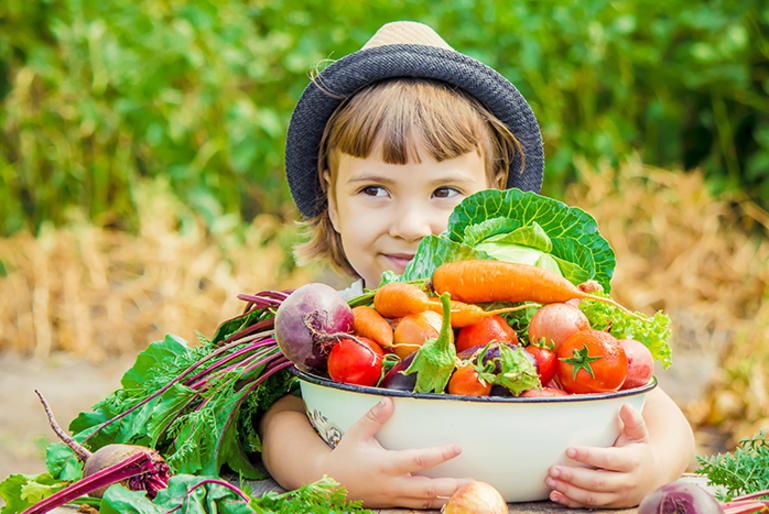 How to grow your own veg and save a packet.
The sun is out, the weather's getting warmer and you're wondering whether it's worthwhile growing your own fruit and vegetables. The short answer is yes, on so many levels.
First and foremost, you can save money by growing your own, if you're savvy about what you plant. For example, grow raspberries instead of carrots - carrots are cheap as chips but supermarket raspberries are expensive.  
Secondly, by growing your own produce, you're freeing yourself from relying on the big supermarkets. This is a great feeling - even if you only grow a few things.
And thirdly, when you grow your own fruit and vegetables, you can be 100 per cent sure they are organic and free from pesticides and insecticides.
One of the loveliest things about growing your own fruit or vegetables has nothing to do with money. You're demonstrating to your children that by simply planting seeds, you can grow real food that you can eat.
This is a great experience for city kids who may have no idea where food comes from. It also teaches them that with patience, time and very little money you can grow things that are fresher and tastier than supermarket produce. It's a lesson in self-reliance.
If you're looking to start growing your own fruit and vegetables, the key thing to remember is this: only grow what you're going to eat. There's no point growing prize-winning pumpkin if you can't stand the taste of it.
Likewise, if your kids love raw carrots, ignore what I said earlier about carrots being cheap as chips and grow them for love, not money.
In general, though, you'll get the biggest bang for your buck by growing high-ticket items - produce that commands a high price at the supermarket.
Exactly what you can grow depends on the climate where you live but here are some fruit and vegetables that are well worth growing at home:
cucumbers

zucchini and other squash

chillies and capsicums

tomatoes

berry fruit - raspberries, boysenberries, strawberries, blueberries

lettuce and other salad leaves

citrus fruit like oranges, grapefruit, limes and lemons - in warmer parts of the country
Herbs are also well worth growing - as anyone who has ever paid $5 for a 20g packet of supermarket coriander will agree.
Even if you have little outdoor space, you can grow herbs on a sunny windowsill. For a few dollars, you can buy a packet of basil seeds that will keep you in fresh, homemade pesto for several years.  
Mojitos more your thing? There's almost nothing easier to grow than mint.
Lettuce and other salad leaves are very rewarding to grow yourself. Not only will you avoid buying bags of supermarket leaves at $4 a pop, but your leaves will be much fresher too.
You'll also cut down on food waste. If you're anything like me, you use half a bag of supermarket leaves and forget about the rest until it starts walking out of your fridge. When you grow your own leaves, you just pick what you're going to use.  Zero waste.
If you're new to gardening, try a mesclun mix of leaves - you can simply cut leaves off as you need them, without harvesting the whole lettuce plant.
Do you spend money on cut flowers? Why not plant some rose bushes, for example, and cut single flowers to display in small vases in your home. Or plant some spring bulbs this autumn and enjoy the splash of colour you get when they flower next spring. You can easily grow bulbs in pots if you're short of space.
Last but not least, gardening can be really fun. There's something really satisfying about growing living things - creating something where previously there was nothing. If you don't believe me, give it a try. You might just surprise yourself.
And if you want to really get stuck in and buy your own tunnel house or glass house, did you know you could get a Harmoney loan for that? It will be money well spent as you can reap the rewards (literally) for many years to come.