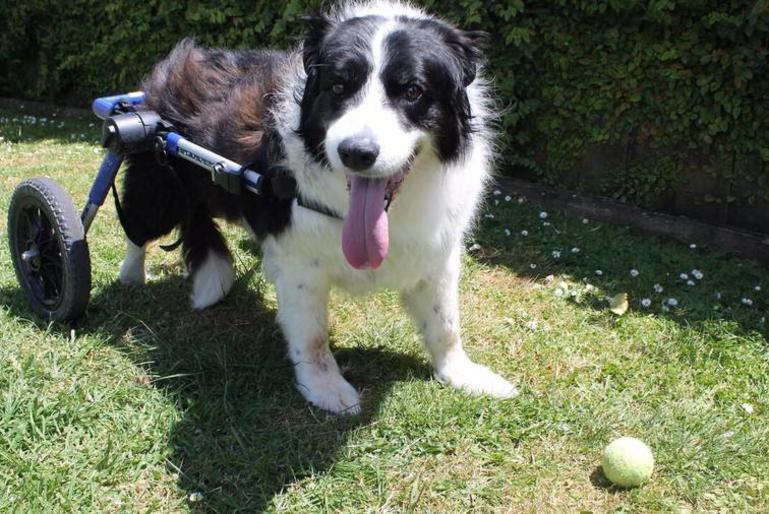 Making Robbie's wheels happen
Robbie, an eleven-year-old Border Collie was out for his birthday walk at this local beach when he had an accident badly injuring his spine four years ago.  With a 50% chance of losing the use of his back legs, Robbie underwent intensive surgery and, sadly, the odds were not in his favour - he is now paralysed in his back legs and incontinent.
Robbie's owner Tracy says, "After the bad news, we took him home and just said, 'What do we do now?' The vet said most people in this instance would choose to have the dog put to sleep, but I couldn't bring myself to do that. It was very hard to care for Robbie as a disabled dog initially, and seeing him struggle was heart-breaking.
"We had a few different opinions and thought about possibly importing a wheelchair for him, but we were told that only one other person in New Zealand had done this, and they still decided to put the dog down.
"I looked into every option – a wheelchair was very expensive and we would have to save our pennies, but we knew it was the best option. Wanting to improve his quality of life now, I had heard about Harmoney, so I went on the website, applied for the loan and we chose Robbie's new wheels. The adjustment was difficult at first but he can get around on his own at home and we use his wheels for walks. He still loves to chase his tennis ball on the beach and at the local park.
"We were so chuffed that our video of Robbie with his new wheels was chosen for the ad campaign! Since he's become famous, we're thinking of starting his own YouTube channel. The only problem is now we can't take him anywhere quickly because everyone is so interested in hearing his story, and we have to make sure he looks good because every outing is a photo opportunity, plus some people have recognised him from the TV advert.