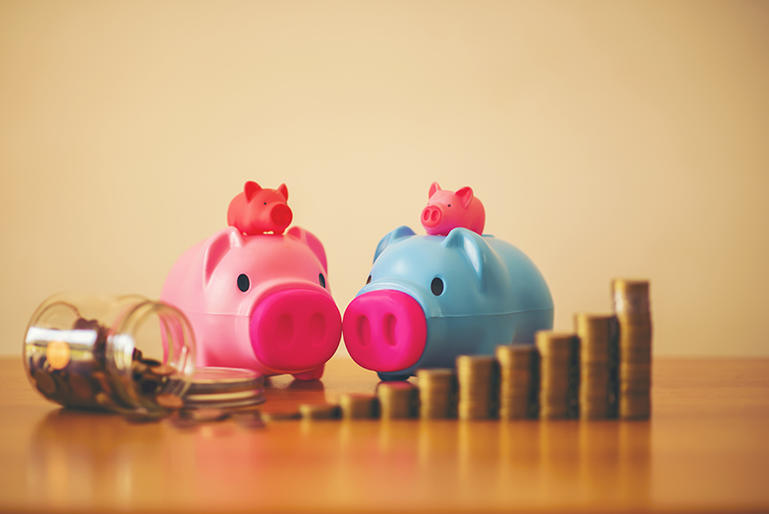 Are You Making the Most of Your KiwiSaver?
KiwiSaver might not be the raciest topic, but it's easy to make mistakes that cost you a lot in the long term.   
You could be with the wrong provider and paying heaps in unnecessary fees, in the wrong fund, or simply contributing too much for your needs. Done well, KiwiSaver can set you and your family up for financial success, so check out these tips to help ensure you're making the most out of your KiwiSaver.
Sorting out the basics
If you're a KiwiSaver member, you'll know that you regularly pay some of your income to your selected KiwiSaver provider. If you're employed, your work will also chip in. Beyond that, not everyone is across the details but it can make a lifetime of difference.
Claim your free $521 by 30 June:
Even if you're self-employed or taking a break from the workforce, it pays to be a member of KiwiSaver. For each dollar you contribute, the Government will chip in another 50 cents up to a maximum of $521. It's a guaranteed 50% return; to claim it, make sure you've contributed at least $1042 into your account by 30 June.
Know your number:
Hopefully, you know how much you have signed up to contribute. It's 3% by default, but you can also pay 4% or 8% of your pre-tax income into your KiwiSaver. Your employer only matches you dollar for dollar up to 3% of your contributions but after that, it's all you. If you need a refresher on your rate, all you need to do is either ask your employer or call 0800 KIWISAVER with your IRD number.
Does your paycheck feel a bit light? Getting the balance between your current needs, other savings plans, and your retirement goals is important but hard to get right. Some Kiwis set their rate at 8% when they first sign up and forget about it. If that's you, you might be feeling the pinch and contributing more than you need to. That's especially true if your income is between $45,000 to $80,000. (In that range, your income tax burden increases the most as you earn more).
Check in with your long-term retirement plan and balance it with your current (genuine) financial needs. Ask yourself whether you want that extra 5% to go to KiwiSaver, or if you need it to pay off high-interest credit card debt or go towards an alternative investment or savings plan.
Many Kiwis also use the 8% rate to save for their first home. But make sure you visit your long-term plan again once you've achieved that goal; you might consider putting that extra $80-$160 towards the mortgage each fortnight. Owning your own home can be part of a successful retirement plan.
Know your provider:
You'll also want to know who your KiwiSaver provider is. You can find this out on the IRD website. Lots of Kiwis still pay their KiwiSaver into their default provider and default fund. That investment choice is not always the right call - default KiwiSaver providers often charge higher fees than other similar providers. Even the regulator in this area, the Financial Markets Authority, is concerned about high numbers of 'default' Kiwis. Last year, about 16.5% of us were 'default' Kiwis. Consider your options using Sorted's KiwiSaver Fund Finder.
Gearing your KiwiSaver for success
Now that we've covered off the basics, let's look at how you can really make the most of KiwiSaver.
Get in the right fund for your needs:
KiwiSaver funds are not a one size fits all business. It's important to make sure you're in a fund that matches your investment objectives.
Generally speaking, if you've bought your first home and are now in it for the long-haul, the growth and aggressive funds are where you should consider looking. These funds tend to invest more heavily in shares and property. These underlying assets are quite a bit riskier than cash and bonds. Across a 20 or 30 year timeframe, a growth fund should outperform a conservative fund but, if you are saving for your first home or you're on the cusp of retirement, you may want to look at the defensive or conservative funds.
What could that choice be worth to you? Over the past five years, the average growth fund returned about 10.5% each year after tax and fees. In contrast, the typical conservative fund returned about 5.2% each year after tax and fees. As you can see below, that can make a significant difference over the years:
Example of $50,000 invested in a Growth Fund and a Conservative Fund
| | | | |
| --- | --- | --- | --- |
| | Year 0 | Year 5 | Difference |
| Growth Fund at 10.5% | $50,000 | $82,372 | $32,372 / 65% return |
| Conservative Fund at 5.2% | $50,000 | $64,424 | $14,424 / 29% return |
Over the course of your next 20 or 30 years in working, even a small difference in returns can make a major difference.
Fair fees and providers:
Boosting your KiwiSaver returns requires you to think carefully about who manages your money to understand how much they're charging you in fees. So what's a fair KiwiSaver fee?
According to Sorted, the lowest cost providers charge about 0.52%, the average fund provider bills you about 1.26%, while the more expensive have fees of around 3.20%.
In dollar terms, those fees can really sting even though the percentages sound low. To make it more real, if you have $100,000 in your KiwiSaver, you'll pay yearly fees of $520, $1,260, or $3,200 at each of these price points. Ignoring any changes in your KiwiSaver balance, over a ten term year term, you'll have paid all up $5,200, $12,600, or $32,000 in fees at the current rates. Still happy with your choice of provider?
The Financial Markets Authority has been leading a push to make funds publish their fees in dollar figures to help Kiwisavers make that decision more easily. For now, you can compare percentage fees on Sorted's KiwiSaver Fund Finder.
Higher fees don't mean better returns:
You might believe that if you pay more in fees then you're in good hands - that a highly trained fund manager is making careful and smart investment decisions for you. Sorted.org.nz collates KiwiSaver fund performance data, so we can easily see whether more expensive funds actually achieve higher returns.
Between April 2012 and December 2017, the best performing fund returned 15.73% and charged 0.81% in fees. The other funds in the top ten were a mix of Growth and Aggressive funds, all returned above about 12.4% and billed a range of fees, mostly around the 1.5-1.7% mark.
What's the takeaway? There doesn't seem to be a noticeable difference in paying higher fees versus getting better returns. In fact, given the most expensive funds didn't feature in the top performers this time around, you might want to consider if they offer you value for money.
Getting expert advice
Remember, if you ever need it, there is a whole profession out there who can help you understand your KiwiSaver. You can find a local provider near you on the FMA website  - make sure they're an AFA (Authorised Financial Adviser). If you want to make the most of your KiwiSaver but you're still not sure how sitting down with an AFA could help you make it happen.
When it comes to savings and investments, knowledge is power. Check back regularly or subscribe to our Making It Happen newsletter for some fresh tips to make your financial goals a reality.