Become a Peer-to-Peer Lender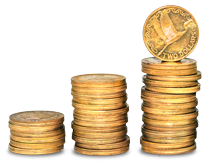 Average Returns of 13% p.a.
Diversification
Reliable asset class
F.M.A Regulated
Lend money through Harmoney
Don't let your savings sit on ice earning low interest. Put them to work on Harmoney's peer-to-peer money marketplace. Get introduced to creditworthy Borrowers and earn great returns.
What is peer-to-peer lending and how does it work?
Peer-to-peer lending is exactly what the name suggests - peers, lending money to their peers. In return, the people borrowing the money repay the Lenders with interest. 
Borrowers in the Harmoney Marketplace take personal loans, which is an asset class known as Consumer Credit. This asset class has been the domain of banks and finance companies for centuries, but peer-to-peer marketplaces like Harmoney are opening this asset class up to everyday people.
Traditionally someone looking to save money will deposit their money to a bank for a set interest rate (with little risk to the Lender). The bank will then lend that money on to people wanting a personal loan, for a much higher interest rate. The borrower repays the bank; the bank takes their margin; and pass on a fraction of the interest back to you.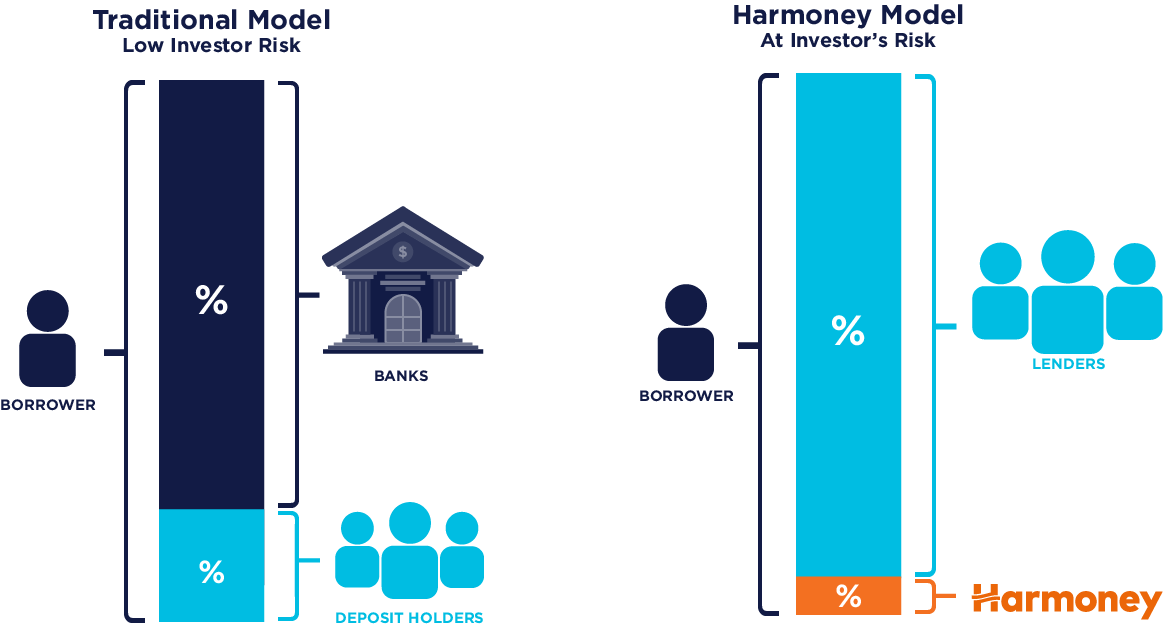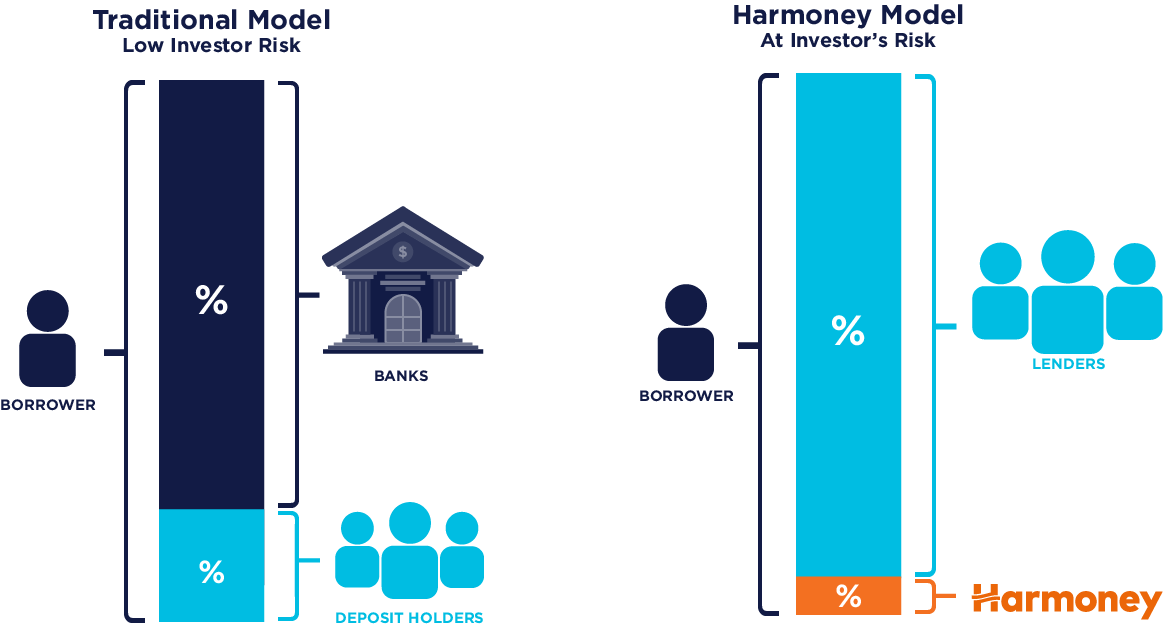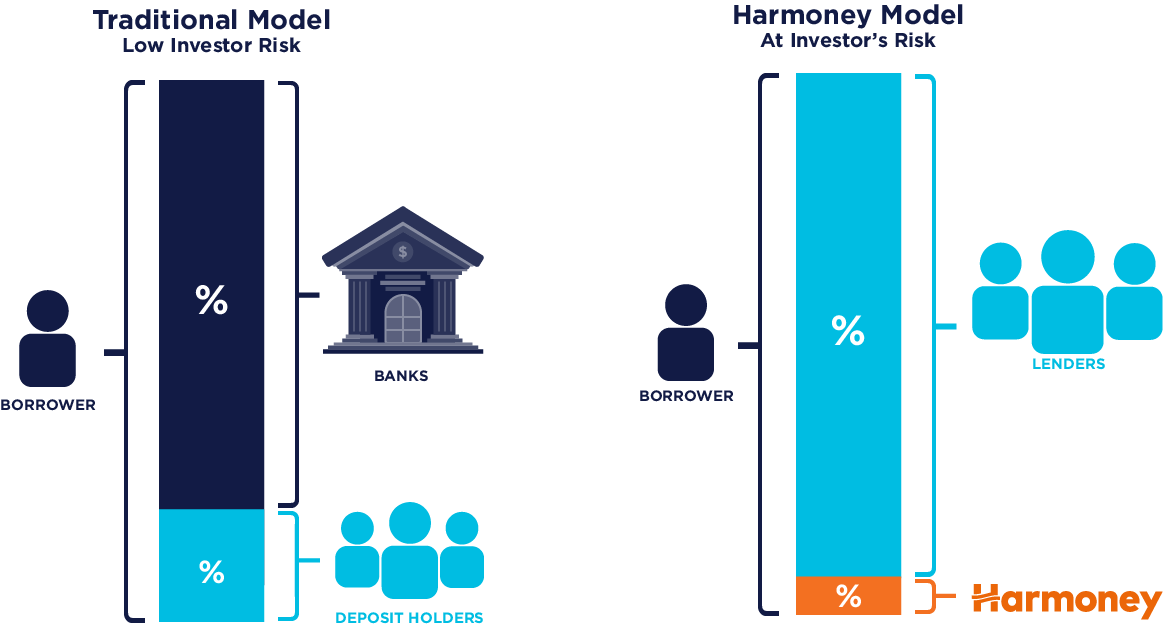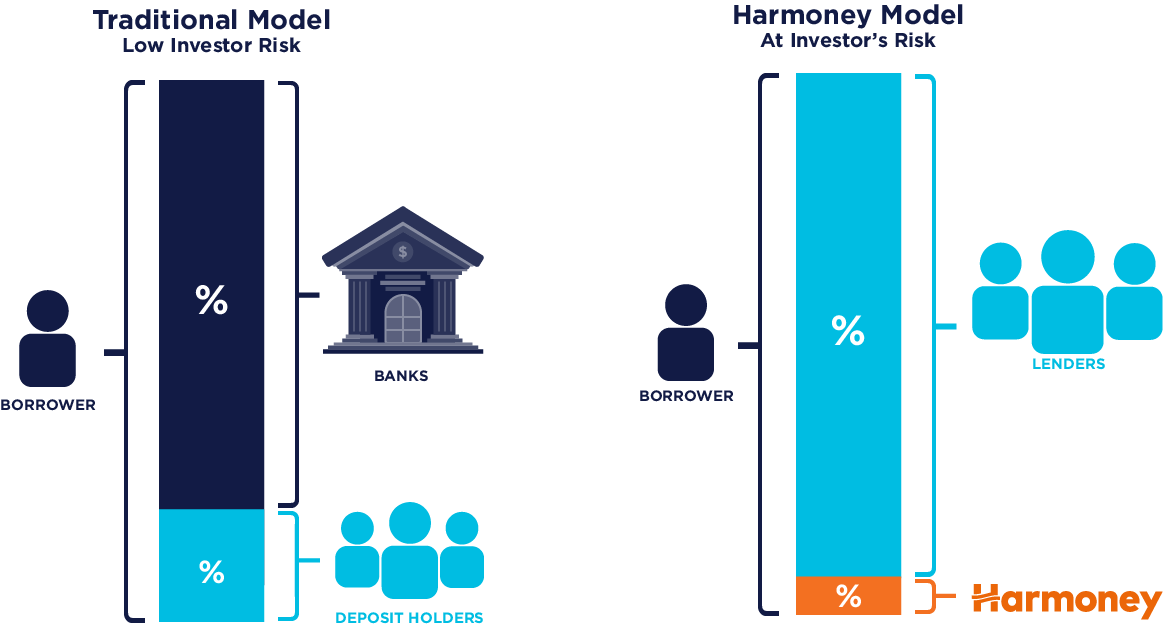 Peer-to-peer lending removes the bank from the equation. Now you can lend your money directly to those looking for a personal loan - and when they repay you, you take the lion's share of the return. But, you also take on the risk as well. In other words, you're one lending the money, and taking the risk, so you're the one who should get the returns. In fact the average Lender in the Harmoney marketplace is getting around 13% p.a. realised return.
Harmoney's role in all of this is to run the peer-to-peer marketplace. This is where Borrowers list their personal loan applications, and Lenders choose which personal loans to fund. We also process every personal loan application to ensure the Borrowers are credit-worthy, and act as an intermediary so that the Borrowers and Lenders can keep their anonymity. And finally, we collect and distribute payments back to the Lenders on behalf of the Borrowers.
How does a 13%+ p.a. return on your investment sound?
Realised Annual Return (RAR) is a measure of the rate of return on funds invested on the Harmoney Platform. It is a calculation of returns received, not a forward forecast of future returns.

In simple terms, RAR takes the income from lending (interest) and deducts the costs you have incurred (credit losses and fees) to provide the net return. The net return is then annualised and divided by the daily principal outstanding to provide your Realised Annual Return.
Why lend through Harmoney

Attractive returns.
Consumer credit generally outperforms typical investments, which is why most of our Lenders enjoy returns of around 11% per annum.
Diversification.
Spread your investment across hundreds of different creditworthy borrowers with a new asset class to diversify your portfolio.

Easy entry.
Start lending from as little as $25. You get to choose how you spread risk so you can relax and watch your investment grow.
Build your portfolio
Build a portfolio to suit your investment strategy. Whether you want to lend to everyone on the marketplace, or only specific types of personal loans, you get control over how you fractionalise your investment and spread your risk.  
Find out more about the investment risks, and loan performance.

Open your Harmoney account and be ready to lend in minutes. Got questions? Check out our Lender FAQs.