LendIt Conference 2014 in Review: Guest Blog by Andrew Cathie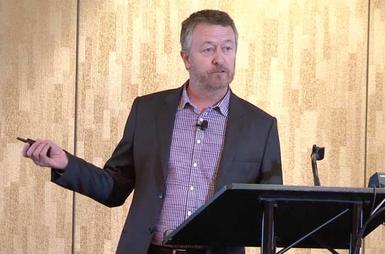 Anyone following Peer-to-Peer Lending news is unlikely to have missed the fact that LendIt 2014 was on last week. The conference describes itself as "the leading conference in the global online lending industry, encompassing both consumer and small business lending." 
This year, LendIt Conference nearly tripled attendees, and boasted representatives from most of the biggest names in online lending. Two of the Harmoney team went along to San Francisco for it, and I (Andrew Cathie, Chief Data Scientist) presented during the conference on a specialised area of credit underwriting.
It's no surprise that the conference was held in San Francisco, which appears to have become something of a capital of P2P with the U.S.'s two largest and oldest P2P platforms, Lending Club and Prosper, having offices close enough that even a very well-fed banker might comfortably make the walk between them.
This was LendIt's second annual conference; the first being in New York last year, and what a difference a year makes! A near three-fold increase in attendees and a substantial maturing of the industry in that short time.
It's a remarkable thing how an industry can identify opportunity and self-organise to address those opportunities. Where some intermediary companies were essentially ideas looking for a home; they are now operational businesses with strong pipelines of new business. Institutional platform Orchard described it well with their excellent "Lendscape" mapping out the known world of P2P Lending.
Peer-to-Peer Lending's evolution
There is a clear evolution at work in Peer-to-Peer Lending, which appears to have gone as follows:
A few start-ups develop, growing at a glacial pace at first, with a fair share collapsing. Those that survive move forward.
Significant amounts of investor money comes in, validating the early players' models, and new platforms start lining up.
Investor supply is overwhelmed by borrower demand, and other sources of supply are sought.
Information services and aggregators develop and mature, recognizing the customer's need to contrast and compare across platforms, and begin to support access to the platforms.
New suppliers enter, such as banks, solving the supply and demand problem; partnerships begin to develop between savvy elements of the legacy financial system and new entrants.
Specialisation occurs, with platforms differentiating on service and market niche aspects.
Maturity is reached; most initial bugs and problems have been overcome, the model becomes mainstream.
The Current State of Peer-to-Peer Lending
So where is the P2P industry now? I think we have quietly moved along the maturity curve while the rest of the financial world was distracted elsewhere. The oldest platform Zopa is nearly ten years old, Prosper is eight years and Lending Club seven. Is there a "black swan" event over the horizon that we don't know about? Possibly, but let's examine some typical pitfalls:
Credit defaults: The oldest platforms were born in deep recessionary times, supplying some excellent learnings for the industry. Secondly, P2P Lending has so far mainly operated in consumer and small-business lending, meaning concentration risk is minimal.
Fraud: will a Bernie Madoff appear and destroy trust? The major platforms publish their loan books to account-level detail. It's hard to hide something or commit a massive fraud in that context.
Operational Expenses: Will costs overrun the platforms ability to earn revenue? Possibly for some, but the better platforms have extremely thin operating expenses compared to bricks and mortar banks, and being largely web-based can scale up and down relatively easily to match the market size.
Regulatory: Will a prohibition-style law simply ban the industry and make it infeasible to operate? If anything, governments appear to be acting for the industry, having had massive bailout expenses for the "too-big-to-fail" banking sector.
So I think P2P Lending is definitely here to stay. The smart ones in the banking industry are starting to recognise this and work out the way to work together.
It was a great conference, and it'll be fascinating to see what the differences are this time next year.