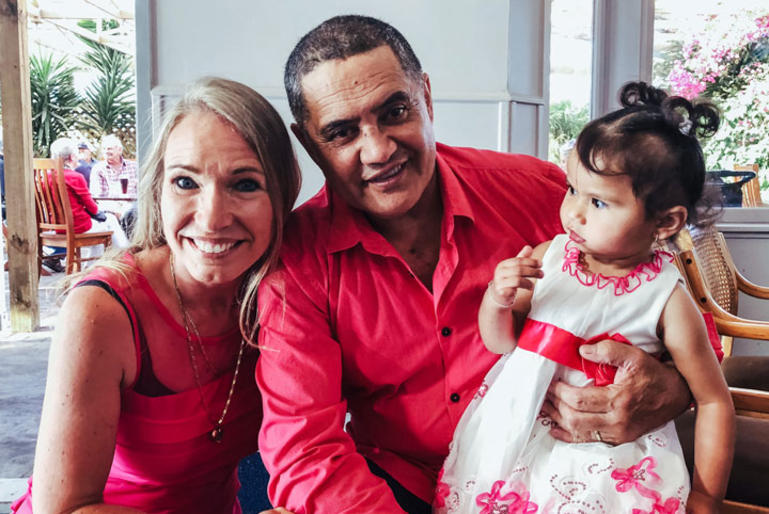 A family homecoming
Guy and Henderika Galvin have seen some big life changes in the past two years, starting with the birth of their daughter, Immanuela Te Aroha Noa, on 18 August 2016. 
Unlike a lot of couples, the Galvins didn't have nine months to prepare – they were in Australia, their home at the time, when they received a call from Guy's sister asking if they were interested in adopting the soon-to-be-born baby of one of their nieces. Six days later, they were back in New Zealand, and the following week, Immanuela arrived. The adoption was finalised in June 2017, and Immanuela is now a thriving 20-month-old.

With the unexpected blessing came some financial stress, however. In Queensland, the Galvins owned a five-bedroom home on a picturesque five-acre block near Mount Tamborine, complete with a swimming pool, visiting kangaroos and a designer kitchen Guy fitted out himself. With both working – Guy for himself and Henderika in community services – their income was good and they were living well. Like a lot of Kiwis, moving to Australia with its higher wages had allowed the Galvins to pay off some debt (from their previous New Zealand business) and start getting ahead financially.

There was never a question about returning to New Zealand – Immanuela has Maori and Indian heritage from her birth parents, and she must grow up here. But in coming home and having a newborn, they took a step back financially. Henderika, who is 52, gave up paid work. "I worked in mental health and I was a workaholic. But then baby was born, and I spent 50 years without her so I'm never going to leave her – I go to daycare with her."

With Henderika caring for Immanuela full-time, the cut back to one income meant the Galvins needed financial support to pay off some debt in Australia and continue to pay the mortgage. They approached the major banks, who declined to help them. Then a friend recommended Harmoney.

They filled out the application form, and Guy says, "It happened so fast it was fantastic. We were approved and then it only took about three days for the loan to be funded. We consolidated our debt in a personal loan to pay off the Australian debt, and then the major bank we had a loan with agreed – because of the Harmoney loan – to knock $7,000 off the debt we owed them, so we could use the rest of the money to pay down other stuff. We were able to pay off two significant debts we had been struggling with for a while, which has freed us up completely. It's a big relief. All we have to concentrate on now is paying Harmoney back."

For the Galvins, one good thing has led to more: Guy has been offered a "great job" in management at his former company in Whakatane, and they are exploring the possibility of selling their Australian property (which is currently being rented to friends) to a developer looking for land for a large subdivision.

Guy says now, "We had to make a lot of adjustments to our life because of our move back home. All the headaches have been worth it for our baby, but the move did put a lot of pressure on us financially to make things work, so we are very appreciative of Harmoney wanting to help us get ahead and attend to matters we couldn't have attended to without Harmoney's support and help."
Helping people achieve their goals is important to Harmoney. Making the whole process of obtaining a personal loan quick and easy is our way of helping.
Do you have a goal and need a personal loan to get there? We'd love to help.
Learn more about Harmoney personal loans.