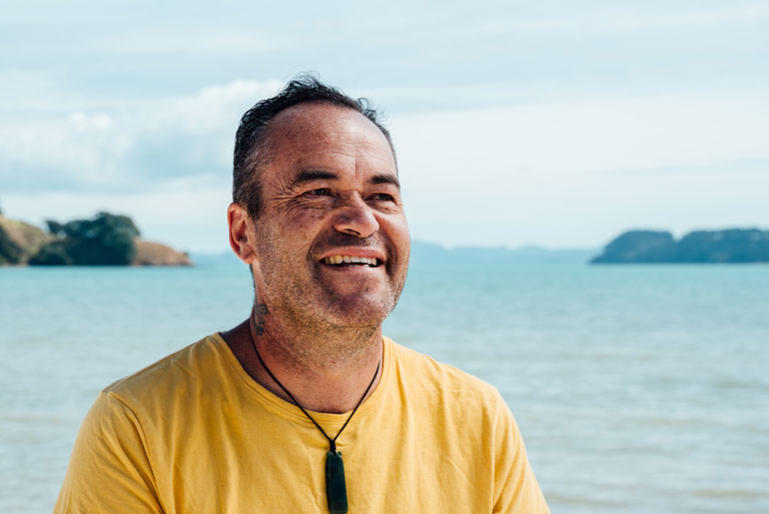 Reviving a family treasure
"There is such wairua here in Mihaka Place."
For Jason Scrivener, making over a family plot of land in Kawakawa Bay, east of Auckland, is about a lot more than just creating a weekend getaway.
The land was passed from Jason's grandparents, to his mother and her siblings, then to Jason's generation of the family. In turn he will pass his share on to his sons, and then grandchildren. The street it sits on, Mihaka Place, is named after his mother's family.
"My father's ashes are now buried on the section, my grandsons' placentas are buried on the section as well. There's a lot if wairua; a lot of spirit here. That's why it was so important to me that I help with the development of Mihaka Place," Jason says.
To help with his plans for the property, Jason turned to Harmoney. His loan has already enabled him to demolish an old garage on site. The next phase is to build a utility unit on the section that will connect to local water and power services, making the property much more user-friendly for the family.
"My favourite part of the project was actually getting the loan approved from Harmoney," Jason laughs. "Getting that tap on the shoulder: 'mate, you've got the loan'; from there, there was just no stopping."
Having used Harmoney previously Jason says he knew the loan application process was simple and user friendly. "I'd definitely recommend Harmoney because it's really personable, and they're able to make the transition from what you don't have to what you can achieve, a reality."
For Jason that reality will be seeing his own family enjoy "the Bay".
"Growing up here we ran on the beach, we played on the beach. There was no handheld devices. You got in trouble. You interacted with your cousins.
"I want my own grandkids to be able to enjoy this place the same way I did. This piece of land is so important."
Helping people achieve their goals is important to Harmoney. Making the whole process of obtaining a personal loan quick and easy is our way of helping.
Do you have a goal and need a personal loan to get there? We'd love to help.
Learn more about Harmoney personal loans.